Breaking Through Gridlock: How to have difficult conversations in a polarized country
February 28, 2019 @ 6:00 PM

-

8:30 PM
Breaking Through Gridlock: How to have difficult conversations in a polarized country
February 28, 2019
Think about the last time you tried to talk with someone about politics or social issues who didn't already agree with you.
How well did it go?
It's getting harder and harder for us to have productive conversations about social issues that matter the most to us, which is widening the gap between Americans and ruining Thanksgiving dinners.  (Unfortunately, Adele can't fix everything.)
Civic Series is a public event series to help adults learn and talk about the most critical issues of our time, like North Korea, Israel-Palestine, racial tension in the US, and many others.
We're kicking off the new year in Philadelphia with a special workshop on how to have difficult (especially political) conversations about the things you most care about, based on Breaking Through Gridlock: The Power of Conversation in a Polarized World, by Jason Jay and Gabriel Grant.  For the first time, Civic Series is bringing this workshop to Philadelphia: the workshop will share clear-cut and actionable pathways for having hard conversations about issues that matter to you — whether it's about the second amendment, healthcare reform, climate change, or others.
This will be a free, two-hour workshop. Registration is required.  Hang out after the event for drinks, snacks, and as few political food fights as possible.
Leading the workshop will be Civic Series founder, Laur Hesse Fisher. Hang out after the event for drinks, snacks, and good convo.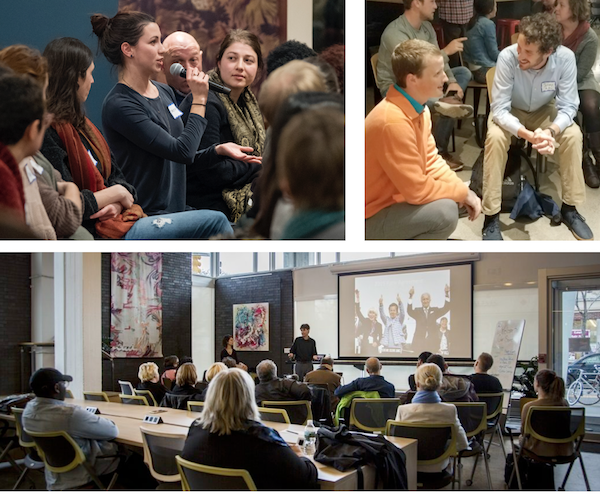 Civic Series helps you understand, think for yourself, and have meaningful conversations about the most important issues of our time, like Brexit, the Israeli-Palestinian conflict, climate change, and many others. We run free, non-partisan events where you can ask questions of experts and discuss the most important issues of the day. Civic Series is a non-profit organization run by dedicated volunteers in the United States and Canada.
The Breaking Through Gridlock workshop is run by Civic Series with permission from the authors.  Interested in having Jason or Gabriel lead the Breaking Through Gridlock workshop for your academic institution or company?  Contact them via their website, https://breakingthroughgridlock.com or hello at civic series dot org.
Thank you to our partners!
Sign up for our newsletter today