The Metaverse
March 3, 2022 @ 7:00 PM

-

8:30 PM
The Metaverse
March 3, 2022
Join our 101-level explainer about the metaverse. What is it? How might it change our lives? And what can we expect in the future?
Have you heard of the Metaverse, and asked yourself, "What is this?" If so, this is your opportunity to get your questions answered about what the Metaverse is, what it includes, and what to look out for in the future. Join our 1.5 hour event in our virtual Q&A with Jon Radoff from Beamble. We will be answering questions like:
What is the Metaverse?
How do we see it today vs. 10 years from now vs. 50 years from now?
What kinds of impacts will it have on how we interact with each other?
What are the pros and cons of the Metaverse?
….and much more.
Before attending the event, listen to "What is the Metaverse" by Jon Radoff to stimulate any questions you can bring to our Q&A about the basics of what the Metaverse is.
Jon Radoff : What is the Metaverse
Link: https://www.youtube.com/watch?v=ZSgitLzAIis&t=4s
Send us your questions before and during the event:
Text or leave a voicemail at (617) 398-0051 so we can play your question during the event! Or email hello@civicseries.org
Our guest expert:
Jon Radoff is an American entrepreneur, author and game designer. His work has focused on online communities, Internet media and computer games. He is CEO and co-founder of Beamable, a Live Game services platform that enables the creation of online games based on Unity. He spent time at Harvard University studying Cognitive Neuroscience and acting as a teaching Fellow.
Photo by Barbara Zandoval on Unsplash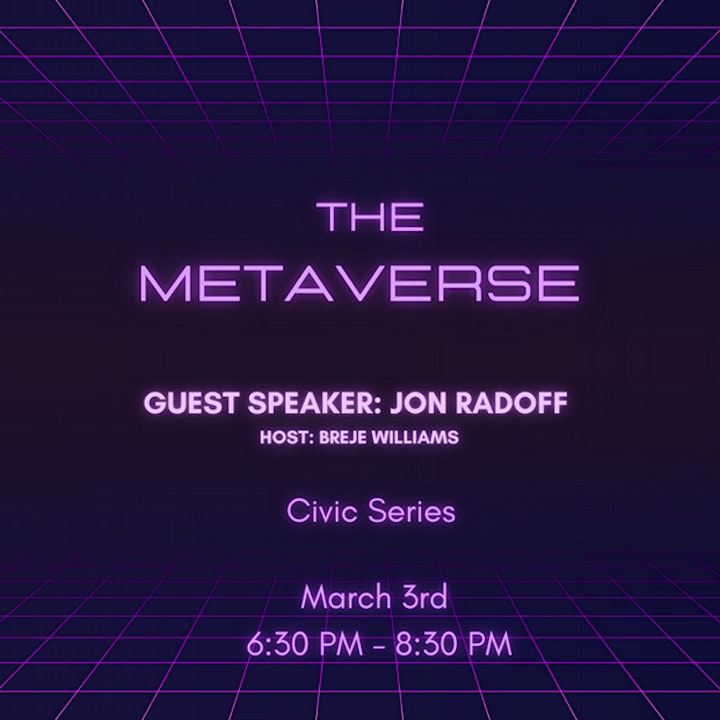 Sign up for our newsletter today